Goals
Increase ASL literacy

Foster independent learning and research skills in a fun environment

Help children develop critical thinking and analytical skills

Create online signed language resources

Increase understanding between Deaf and hearing children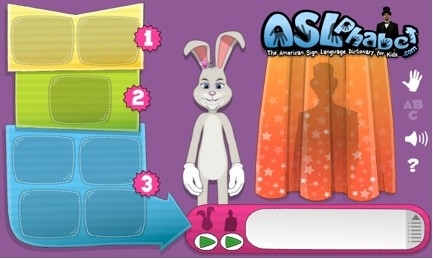 Back to gallery
Overview
The DEAF CULTURE CENTRE has started a new animated American Sign Language (ASL) dictionary for children at www.aslphabet.com and we need your help to expand the number of words. The animated dictionary is the first of its kind and will allow children to look up words in their primary language according to the handshape, location and movement of signs.
To date, ASL dictionaries have provided word search from English to ASL. With this creative project, children can look up words in their primary language independently without having to rely on adults. As well, parents and siblings can use it to search for the meaning of a sign.
The video components of a signing magician, animated rabbit and graphics add a whimsical sense of fun, making this freely accessible tool on the web friendly for young children.

The Pepsi Refresh Grant will be used to expand the ASL animated dictionary with voice over for children and parents to use with ease.
How will the

$100K

be used?
Budget Notes: The 300 new animated signs will more than triple the capacity of the dictionary. The signs are performed by an ASL instructor and then animated as a signing rabbit (at $259/word).
$ 77,700
Create 300 new animated signs
$ 10,760
Create definitions performed by a signing magician
$ 5,740
Interactive coding (build ASL words and definitions into the interface
$ 5,800
Add voice over and text for translation (ASL/English interpreters)