Community Refresh Projects September 5, 2021 Community Projectscanoeing, headlight 0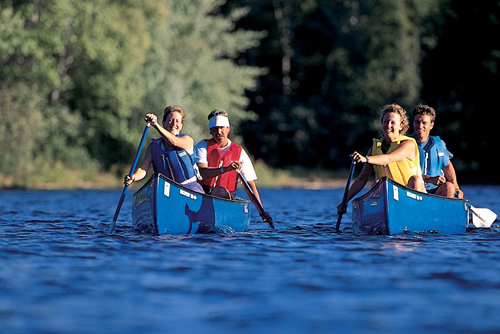 If you've been thinking about trying to find something to do for your next community activity, why not try a community camping trip. Many people love camping trips and it can be a great thing to do after doing a cleaning project to "enjoy" the area that was just cleaned. There are many other reasons to have a community camping trip as your next refreshing community outing.
It's An Eco Friendly Activity
A classic camping trip is one of the most eco-friendly social activities. When you are out camping you are just enjoying the outdoors in its natural state, burning firewood, telling ghost stories over a fire, playing out in nature, all of these are activities that don't harm the environment. Many companies know how eco-friendly camping can be.
When you are out camping, just make sure that everyone picks up their trash and cleans up the camp area when they are finished.
It's a Great Bonding Activity
When people are out camping, they are not quite as likely to pull out their cell phones and start texting their BFFs. Instead, they are likely to put their phones down (possibly because they don't have any signal) and just look around to enjoy the natural wonders of nature. As they do this, people will naturally start talking to pass the time.
This won't go for everyone of course, a few people might just be content passing time watching nature, and that is just fine, but others will start to talk and learn more about each other.
Simple activities, such as cookouts, hikes, or night time ghost stories, during the trip, can be a great way for people in the community to spend time with each other.
Watching sunrises, sunsets, or the stars at night can be a great way to rekindle the romance in a marriage, or a peaceful way to spend time with the family.
Just remember that if you have young children, bring some lighting along with you just in case they get scared during ghost story time or at night. Try choosing a flashlight or choosing a headlamp, as they make great sources of lighting.
It Provides Opportunity for a Great Workout
If you have heard other members of your community complain because they have put on a few extra pounds, a camping trip might be a great community activity. There are many things that you do during camping trips that provide an opportunity for a workout. Pitching tents, going on hikes, riding bikes, and gathering firewood, aren't sedentary activities. They require you to get up and get a workout. This is why many support groups that are dedicated to weight loss go on camping trips as rewards for achieving some goal.
A community camping trip can be a great bonding experience for the entire community. It can teach children about the importance of teamwork, and being thankful for family and all of the things you have. It can also be a great way for overworked businesspeople to get away from technology and enjoy all of the great things nature can provide. Either way, a camping trip can be a great experience that can be remembered by all for years to come.